What Timken makes possible begins with you.
Those who came before us helped land a man on the moon, create the world's infrastructure, and introduce renewable energy alternatives. Now you can join the Timken team to write your own unique story and help drive what's next.
A career at Timken means you can have an immediate impact doing Work That Matters to the world— improving the efficiency of today's industrial equipment and preparing for the future of motion on our planet and beyond. New employees can start contributing right away, and there are many opportunities to advance your career at your own pace. Join our global team of 20,000 people in 46 countries, and start helping our customers push the limits of what's possible in their world of motion.
Position Summary:  The set-up operator is responsible for the set-up and operation of various jobs both beginning and throughout the shift.  They will need to maintain a steady smooth flow of production in the department.  The operator is responsible for the overall coordination and production flow.  Responsibilities include training employees; planning, assigning and addressing minor complaints and resolving minor problems.  The set-up operator will need to be in direct contact with the Area Manager in regards to production and/or employee situations that may arise. 
Essential Responsibilities:
Perform set-ups of lines and presses as necessary. Work from job packets and dispatch list.

Responsible for ensuring route cards are filled out and properly placed.

Obtain material and supplies for machining processes and keep records and counts of material.  Check and verify inventory availability on the computer terminal.  Direct the return of excess material to the warehouse as orders are complete.

Oversee regular clean-up of roller chain work areas.

Perform duties involving the set-up and operation of a variety of machines and equipment, instructing operators in their duties as needed.

Work from drawings, specifications, shop orders, or written and verbal instructions.  Use fixed and adjustable measuring devices to verify and hold tolerance.

Good judgment is required to plan and perform operations, instruct and check work of others, make setups and adjustments.

Detect faulty operation of equipment or defective materials, and refer unusual cases to the supervisor.

Responsible for quality; Accept training in blueprint reading, use of gauges and measuring tools common to manufacturing, along with related statistical process control principles and other quality control procedures.

Must be knowledgeable in and practice all safety procedures.

Other duties as assigned.
Education and/or Experience:  High school diploma or general education degree (GED) required.
Language Skills: Ability to read and interpret documents such as safety rules, operating and maintenance instructions, and procedure manuals.  Ability to write routine reports and complete necessary production forms.  Ability to speak effectively with fellow employees and/or customers. 
Mathematical Skills:  Ability to work with mathematical concepts such as probability and statistical inference, and fundamentals of plane and solid geometry and trigonometry.  Ability to apply concepts such as fractions, percentages, ratios, and proportions to practical situations.
Reasoning Ability: Ability to apply common sense understanding to carry out instructions furnished in written, oral, schedule, or diagram form.  Ability to deal with problems involving several variables; problem solving ability.
Physical Demands:  The physical demands described here are representative of those that must be met by an employee to successfully perform the essential functions of this job. While performing the duties of this job, the employee is frequently required to stand, sit, use hands/arms.   The employee is regularly required to talk, hear at conversational level, and smell.  The employee is occasionally required to walk, climb, balance, stoop, kneel, crouch, or crawl. The employee must regularly lift/move up to 10 pounds, frequently lift/move up to 25 pounds, and occasionally lift/move up to 50 pounds.  Moving/lifting greater than 50 pounds requires assistance from another employee or a lifting device/hoist.  Specific vision abilities required by this job include close vision, peripheral vision, depth perception, and ability to adjust focus.
Work Environment:  The work environment characteristics described here are representative of those an employee encounters while performing the essential functions of this job. While performing the duties of this job, the employee is regularly exposed to moving mechanical parts. The employee is frequently exposed to fumes or airborne particles, outside weather conditions, and vibration. The employee is occasionally exposed to extreme heat and risk of electrical shock. The noise level in the work environment is usually loud.
Required Personal Protective Equipment: Employee is required to wear proper safety eyewear, hearing protection, and steel-toed shoes at all times while on the plant floor.
All qualified applicants shall be treated equally according to their individual qualifications, abilities, experiences and other employment standards. There will be no discrimination due to gender or gender identity, race, religion, color, national origin, ancestry, age, disability, sexual orientation, veteran/military status or any other basis protected by applicable law.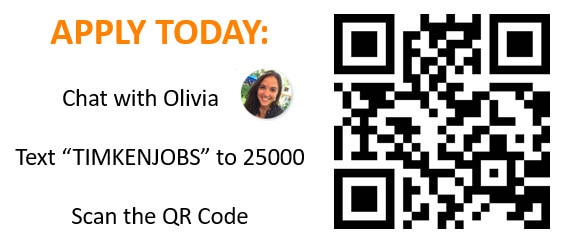 The Timken Company designs a growing portfolio of engineered bearings and industrial motion products that improve the reliability and efficiency of global machinery and equipment to move the world forward. Timken posted $4.5 billion in sales in 2022 and employs more than 20,000 people globally, operating from 46 countries.
Why Choose Timken?
Over a century of knowledge and innovation

A culture of top performance

A global, diverse environment

Products that contribute to a sustainable world

A conviction to improve communities around us

Competitive salary and benefits


Nearest Major Market: Sterling
Job Segment: QC, Warehouse, Machinist, Electrical, Quality, Manufacturing, Engineering