Senior Electrical Engineer
Iron Station, NC, US, 28080
What Timken makes possible begins with you.
Those who came before us helped land a man on the moon, create the world's infrastructure, and introduce renewable energy alternatives. Now you can join the Timken team to write your own unique story and help drive what's next.
A career at Timken means you can have an immediate impact doing Work That Matters to the world— improving the efficiency of today's industrial equipment and preparing for the future of motion on our planet and beyond. New employees can start contributing right away, and there are many opportunities to advance your career at your own pace. Join our global team of 19,000 people in 46 countries, and start helping our customers push the limits of what's possible in their world of motion.
Purpose:

This position exists in order to increase productivity, improve product quality, improve safety, and increase the profitability of the Timken Company Lincolnton manufacturing plant. This individual will lead and manage engineering projects from conceptualization to full installation -developing project plans, and budgets, writing Appropriation Requests, coordinating internal engineering and support personnel, purchasing parts and equipment, training operators and maintainers, and debugging equipment in order to support highly automated manufacturing operations. The position conducts feasibility studies and performs engineering functions including data collection and analysis, daily equipment and process problem solving, driving continuous improvement initiatives, and providing accurate and thorough documentation.

 

Responsibilities:

Increase plant productivity by implementing continuous improvement plans for the manufacturing plant including cost reduction initiatives.
Improve product quality by meeting customer (internal/external) expectations.
Lead and manage projects to meet the desired goal in a set time frame and within budget. Projects can range in value from a few thousand to several million. Complexities include what is described above plus a fundamental understanding of engineering principles involved to evaluate the ability of equipment and processes to meet customer expectations, writing specifications for the purchase of equipment, procuring or performing the installation engineering, designing new circuitry, or redesigning existing circuitry or processes.
Coordinate with contractors, suppliers, and maintenance to provide new, more innovative, and cost-effective solutions to existing as well as new manufacturing cells.
Improve equipment reliability utilizing tools such as failure analysis, problem-solving, lean manufacturing, and design.

 

Requirements:

Bachelor's Degree in Electrical Engineering, or Electrical Engineering Technology
Ability to apply electrical fundamentals to troubleshooting, operation, and design of electrical components and machinery
Strong PLC troubleshooting and programming skills
Experience troubleshooting ladder logic
Experience utilizing 2D Drafting software such as AutoCAD
Strong problem-solving skills
Ability to lead projects
Good written and oral communication skills

 

Desired:

Knowledgeable in bearing manufacturing, assembly, and inspection processes
Experience supplying products to Automotive customers and PPAP of new product
In-depth knowledge and experience in manufacturing equipment and processes
In-depth knowledge and experience in grinding principles and processes
Experience with vision systems
Experience in robot programming
Experience with Eddie Current systems
Experiene with relay logic
Experience with legacy
Experience troubleshooting CNC equipment

 

 

 

 

 
All qualified applicants shall be treated equally according to their individual qualifications, abilities, experiences and other employment standards. There will be no discrimination due to gender or gender identity, race, religion, color, national origin, ancestry, age, disability, sexual orientation, veteran/military status or any other basis protected by applicable law.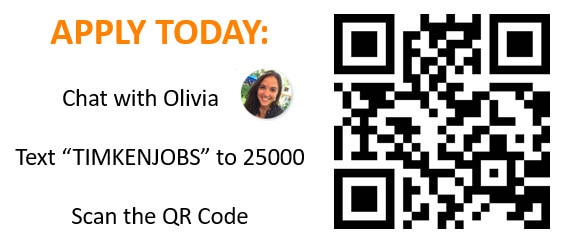 The Timken Company designs a growing portfolio of engineered bearings and industrial motion products that improve the reliability and efficiency of global machinery and equipment to move the world forward. Timken posted $4.5 billion in sales in 2022 and employs more than 20,000 people globally, operating from 46 countries.
Why Choose Timken?
Over a century of knowledge and innovation

A culture of top performance

A global, diverse environment

Products that contribute to a sustainable world

A conviction to improve communities around us

Competitive salary and benefits


Nearest Major Market: Charlotte
Nearest Secondary Market: Concord
Job Segment: Electrical Engineering, Manufacturing Engineer, Drafting, Engineer, Electrical, Engineering